Last Updated on January 26, 2023 by marian@celebrate-family.com
JC Penney Kids Zone are free drop by and take it home crafts offered the second Saturday of each month from 11 am – 12 pm.
JC Penney Kids Zone staff will give the kids the supplies they need for the craft or project.
What to Expect at the JC Penney Kids Zone
It will be a fun, free activity for your little one, including a free craft, with a lanyard, ID badge, a collector's pin, and other supplies if needed. And a Project Master Medallion when they complete 6 projects.
Grownups will get something a special extra 10% off coupon to shop in store, valid for one day only.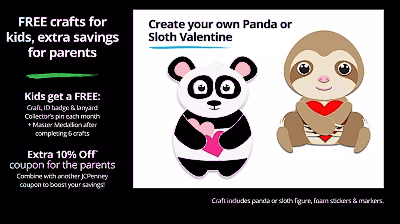 Rain or shine – no reservations needed. Check the JC Penney's Kids Zone for details and dates. [LINK]

CelebrateFamily.us Best Bet: Did you know that workshops, craft sessions and cooking classes at local stores is a great way for your child to learn something new and have fun at the same time? We promise not to tell!

CelebrateFamily.us
JC Penney Kids Zone Dates 2023
JAN - JUN
JUL - DEC
Jan 14, 2023
Feb 11, 2023
Mar 11, 2023
April 8, 2023
May 13, 2023
Jun 10, 2023

July 8, 2023
Aug12, 2023
Sept 9, 2023
Oct 14, 2023
Nov11, 2023
Dec 9, 2023

Updated Jan 26, 2023
General Rules for Store Events: Minimum age for participation is 3 years. Event limited based on store capacity. Parents must stay with their child. Event is subject to change or cancellation without notice. While supplies last.