Photo Lab for Kids: Fun Family Portraits | Apple Store
October 2, 2022
@
8:00 am
–
5:00 pm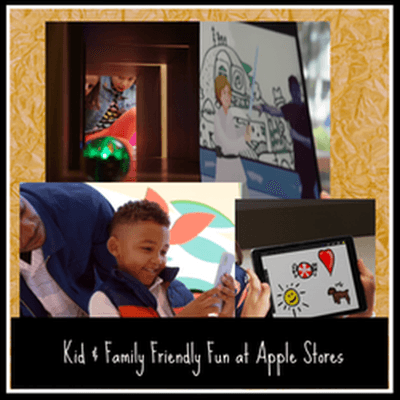 Learn how to set up and take family portraits using iPad and iPhone. Kids will find interesting backgrounds, use different light sources, and direct family members for their photo shoot. They'll use Live Photos to capture action, and add fun art and text to their portraits.
iPhone or iPad devices will be provided, or bring your own. Recommended for families and kids ages 5–12.
Apple Labs are free, but you must reserve a space in advance.  Dates, times and availability vary by location.
~~~~~~~~~~~~~~~~~~~~~~~~~~~~~~~~~~~~~~~~~~~~~~~~~
To find and register for an event near you, click on this link. You can change the area/location or click on the drop down arrow to see events in the Bay area. Labs dive deeper into a creative approach by getting you started on a project that you can take further. Labs build on your existing skills. If you're a beginner, check out Skills sessions.
Other links to help you find family friendly learning events at Apple Stores:
Today At Apple [Link]
Discover: Join free sessions at your Apple store [LINK]
Marian's Note: CelebrateFamily includes activities such as this because they are free and seem like an easy way to keep kids interested in technology without spending a lot of money.
October 2, 2022
@
8:00 am
–
5:00 pm
Related Events